March is Problem Gambling Awareness Month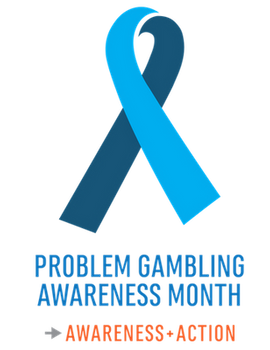 This year marks the 17th anniversary of National Problem Gambling Awareness month as recognized by the National Council on Problem Gambling and its affiliates, public health organizations, advocacy groups, and gambling operators who work collaboratively to let people know that help and hope exist. Groups across America hold conferences, air public service announcements, provide counselor training, host health screening days, run social media campaigns, and utilize a variety of other avenues to increase public awareness surrounding problem gambling.
The goals of this grassroots national campaign are to increase public awareness of problem gambling and the availability of treatment and recovery services, as well as encouraging health care providers to screen clients for problem gambling.
This year's campaign theme, "Awareness + Action," is all about having conversations about problem gambling issues and taking action by directing people to the help they need.

Do You Know the Facts?
Problem gambling includes all gambling behavior patterns that compromise, disrupt, or damage personal, familial, or career pursuits.
Many adults who gamble will never have a problem; however, nationwide nearly 2 million adults meet the criteria for a severe gambling problem, and another 4-6 million have mild to moderate gambling problems.
According to the Ohio Gambling Survey 2016-17, of those who gamble in Ohio, approximately 10.3% can be categorized as low-risk, moderate-risk, or problem gamblers.
Researchers estimate that more than 80% of those with a gambling problem never seek treatment.
As many as 77% of problem gamblers have suicidal thoughts or feelings. Of those considering suicide, 1 out of 5 attempt to take their own life.
Problem gamblers are three times more likely to experience a co-occurring substance use disorder and twice as likely to experience mood disorders, such as depression.
Help & Hope Are Available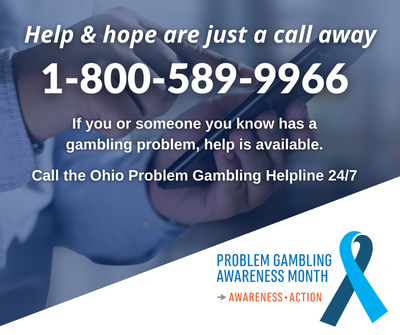 While the reasons as to why an individual may experience a gambling problem vary, the one consistent theme is that the problem negatively affects the individual as well as their friends and family. With the increase in the availability of gambling, simply staying away or quitting can be difficult; however, it is important to keep in mind that Treatment Works and Recovery is Possible.
Think you might have a problem but aren't sure? Take these online self-assessment tools:
Problem Gambling Treatment is Free in Ohio
In Ohio, problem gambling treatment services are free. There are over 80 outpatient gambling counseling and treatment organizations available. For a professional assessment and treatment resources near you, visit GamblingHelpOhio.org. You can contact the Ohio Problem Gambling Helpline at 1-800-589-9966 to speak to a referral specialist for more information.
Gamblers Anonymous
Gamblers Anonymous (GA) is a fellowship of people who share their experience, strength, and hope with each other to overcome and help others with compulsive gambling. To find a GA meeting in your area, visit GamblersAnonymous.org/GA/Locations. In response to the COVID-19 Pandemic, virtual meetings are also being conducted across the country. Visit GamblersAnonymous.org/GA/Virtual-Meetings for more information.
Voluntary Exclusion Program (VEP)
This program, coordinated by the Ohio Casino Control Commission (OCCC), offers individuals the ability to self-exclude themselves from all Ohio casino facilities for one year, five years, or their lifetime. To enroll, you will be asked to complete the Request for Voluntary Exclusion form in the presence of a trained staff member of the OCCC. Once the request is validated, you are not permitted access to any Ohio casino facility during the length of the self-imposed ban. Additional information about the VEP is available on the OCCC's website.

Resources to Help Raise Awareness
Ohio Resources
The National Council on Problem Gambling has created a Toolkit containing documents and graphics which you or your organization may use to participate in Problem Gambling Awareness Month.
2021 Toolkit & Documents
2021 PGAM Logos & Graphics
March 9th is Gambling Disorder Screening Day
Screening Day is an annual, one-day event intended to educate and support providers in screening for Gambling Disorder. Client-facing organizations, community groups, other organizations, and individuals can participate by screening people for Gambling Disorder on Screening Day.
Although nearly 50% of people who have gambling problems are in treatment for "something," national studies have failed to identify anyone who currently reports being in treatment specifically for gambling-related problems. Many cases of Gambling Disorder go undetected, due to limited assessment and screening.
The National Council on Problem Gambling has partnered with Cambridge Health Alliance Division on Addiction, which has developed a free Gambling Disorder Screening Day Toolkit. PGNO can also provide advice on integrating gambling screening and assessment into your agency's current in-take process. For more information, contact Info@PGNOhio.org.
Get Involved with PGAM Events
Join PGNO and NCPG affiliate councils in increasing awareness of problem gambling and improving treatment with these trainings and events.
28
29
30
Mar 31
Apr 1
2
3
25
26
27
28
29
Apr 30
May 1
This month does not have any events.