Stage I: Gambling, Problem Gambling & Ohio's Service System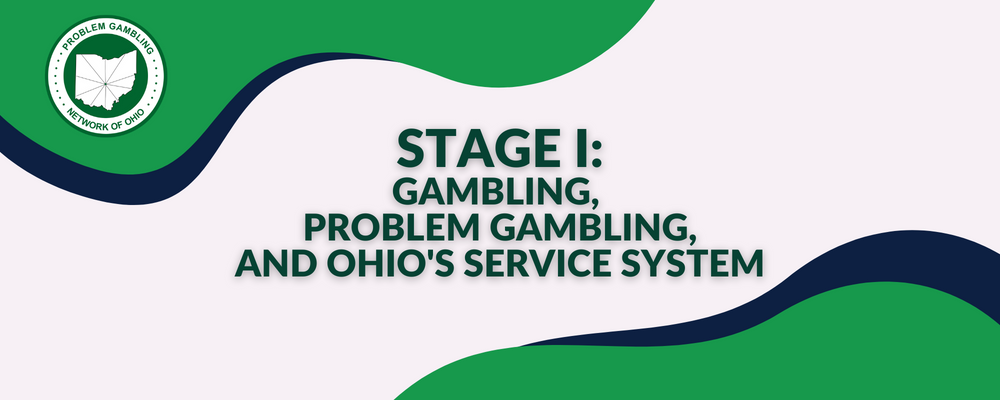 Stage I provides 12 CEUs of gambling-specific education that will increase participants' knowledge and understanding of the current climate of gambling and gambling expansion, problem gambling risks and warning signs, at-risk populations, and co-morbidities of problem gambling with substance abuse and mental illness. Furthermore, this training also discusses new and emerging trends in gambling and gaming, legislative updates and how to work with and engage your agency, board, and community.
Learning Objectives:
• Recognize current trends and data specific to Ohio's gambling landscape
• Learn the risks and warning signs of problematic gambling
• Understand co-morbidities of gambling addiction, substance abuse, and mental illness
• Become familiar with screening tools to identify gambling addiction
• Learn about how to integrate gambling prevention and treatment into agencies, boards, and communities
Who Should Attend:
Professionals in the fields of assessment, prevention, treatment, policy, education; county boards; community members; recovery advocates; partners in operation and regulation; and anyone wanting to learn more about gambling and Ohio's service system.
Cost: $50
Continuing Education:
12.0 CEUs are available for this training which can be used toward obtaining the GAMB Endorsement through the Ohio Chemical Dependency Board or can prove scope of competency through the Ohio Social Worker, Counselor, and Marriage & Family Therapist Board. Problem Gambling Network of Ohio is an approved continuing education provider through the Ohio Chemical Dependency Professionals Board, the Ohio Counselor, Social Work, and Marriage & Family Therapist Board, and the International Gambling Counselor Certification Board.
Ohio Chemical Dependency Professionals Board Subject Areas:
- P1: 0.5 hours; P2: 3.5 hours; P3: 1.0 hour; P6: 2.75 hours; PR1: 2.25 hours
- C1: 4.0 hours; C2: 0.5 hours; C3: 1.0 hour; C4: 3.25; C7: 1.0 hour; TR1: 2.25 hours
- G1: 2.75 hours; G2: 3.75 hours; G3: 3.25 hours; G4: 2.25 hours
Schedule:
This virtual training will run each day from 10:00 AM – 3:00 PM ET with a 1-hour break from 12:00 PM – 1:00 PM. Each day will consist of 4 hours of content totaling 12 hours.
Lead Trainers: Claire Spada, OCPS, ICPS & Abdullah Mahmood, LSW, LCDCIII-GAMBp, OCPSA
Claire is the Workforce Development Program Manager for PGNO and an Ohio Certified Prevention Specialist. She has worked in the prevention field for over 15 years which has included a focus on substance use and problem gambling prevention across the lifespan. In a previous role, Claire coordinated gambling services for a community agency and was effective in developing screening procedures, providing awareness and education to counselors and clients, integrating problem gambling into drug and alcohol prevention, as well as ensuring that her agency was well prepared to address gambling disorder.
Abdullah is the Program Coordinator for PGNO. He has counseled individuals with substance use disorders, opioid use disorders, and gambling disorders. He has experience in direct care as well as in prevention. He has worked with many different client populations from adolescents, adults, to minority communities. In his current role, Abdullah supports individuals getting their gambling endorsement, facilitates training, and answers daytime warm transfer calls through the Ohio Problem Gambling Helpline.