How to Obtain Your GAMB Endorsement
Counselors and social workers interested in treating disordered gambling in Ohio must obtain the Gambling Disorder (GAMB) Endorsement. Requirements for this include 30 gambling-specific continuing education hours. Upon receiving the required hours of education, an individual can hold the Preliminary GAMB Endorsement and begin acquiring the needed hours of direct service. The renewal GAMB Endorsement requires completion of 100 hours of gambling disorder direct clinical experience and 4 hours of supervision. These hours must be completed within two years before the preliminary endorsement expires.
Direct clinical experience can include:
Direct clinical care
Discussing gambling disorder inside of group settings such as IOP groups
Completing clinical assessments that include Gambling Disorder screens
PGNO is here to help you complete your GAMB endorsement. Through our Gambling Disorder Training Stages, you will be able to receive 30 quality hours of gambling-specific education, from an overview of gambling disorder and Ohio's treatment services to treatment methods and specialty topics presented by field experts. We also offer a variety of opportunities throughout the year to receive supervision on your clinical cases through our Gambling Counselor Supervision Series.
For questions about the GAMB Endorsement, email Cory Brown, PGNO Program Manager, at CBrown@PGNOhio.org.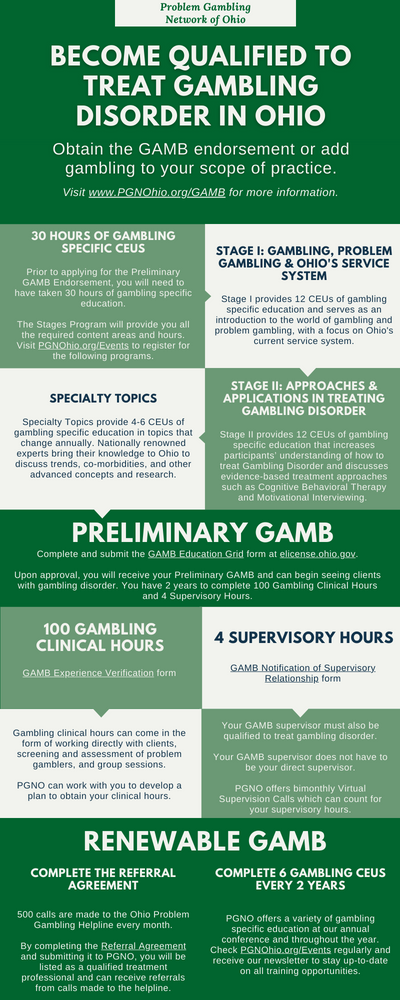 Watch this video to learn about
the requirements for the GAMB Endorsement
GAMB Endorsement Information Sessions
PURPOSE:
These 60-minute webinars are anyone working in Ohio interested in obtaining the Gambling Disorder (GAMB) Endorsement through the Ohio Chemical Dependency Professionals Board (OCDPB), or anyone wanting to add gambling treatment to their scope of practice through the Ohio Counselor, Social Worker & Marriage and Family Therapist Board.
These calls will provide information on the requirements of obtaining the GAMB Endorsement and scope of practice to treat gambling disorder. The webinar will also provide an opportunity for attendees to hear from PGNO staff, who coordinate the needed requirements such as training and supervisory hours, and from OCDPB staff, who can assist with questions regarding paperwork, submissions, deadlines, and other logistics.
Due to the nature of the event, continuing education hours will not be available
FACILITATORS:
PGNO Staff and OCDPB Staff
WHO SHOULD ATTEND:
Anyone interested in learning more about gambling-specific endorsements or treating gambling disorder in Ohio.
27
28
29
Jun 30
Jul 1
2
3