Lottery and scratch-off tickets can be fun and exciting for many, but they are not suitable for children and teens. PGNO is joining the National Council on Problem Gambling (NCPG) and lotteries across the country in encouraging responsible play and gift-giving with the Gift Responsibly Campaign.
It is important to remember that lottery tickets are not a suitable gift for those under 18. According to research done by the International Center for Youth Gambling Problems & High-Risk Behavior, early childhood gambling experiences can be a risk factor for problem gambling later on in life. Lottery scratch-off tickets have been shown to present a possible gateway to other gambling activities. Despite this, some adults report giving lottery tickets as gifts to those under 18.
Get Involved
The Gift Responsibly Campaign is a great opportunity for organizations and coalitions to engage with their local lottery retailers and community members. When planning your outreach efforts, you can use the free materials provided by the campaign or create your own branding based on the campaign's guidelines. Visit https://bit.ly/Gift-Responsibly to download campaign assets and learn more.
Download the Toolkit
Youth Gambling Facts
Children who gamble before the age of 12 are at four times greater risk to develop a gambling problem later in life. Ohio is working hard to raise awareness of the number of gambling behaviors youth are exposed to on a daily basis, including not only gifted lottery tickets, but also fantasy sports, family poker nights, video game loot boxes, and more.
People with a gambling disorder report earlier onset of gambling as compared to people without the disorder.
Approximately 80% of high school-aged adolescents report having gambled for money during the past year.
2-4% of adolescents currently have a problem with gambling and 10-14% of adolescents are at risk for developing a problem with gambling, compared to 1-2% of the adult population.
Research shows that kids who gamble are more likely to engage in other risky behaviors, including using alcohol and tobacco, criminal activity, and violent behavior.
For more information and resources on youth gambling prevention, visit ChangeTheGameOhio.org.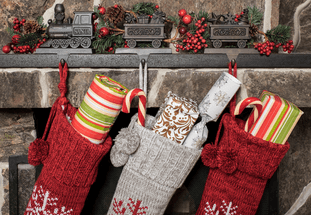 Need suitable stocking stuffers for kids & teens? Here are a few ideas:
Puzzle and picture books
Playing cards
Travel-size checkers
Hairbows and headbands
Candy, nuts, or dried fruit
Gift cards or money
Journal and fun writing utensils
Nailpolish
Lotion and bubble bath 
Paint and paintbrushes
Mugs and reusable bottles
And of course, everyone's favorite, socks!