While most can safely and responsibly gamble, the existence of those negatively impacted by gambling cannot be denied. As shown by Ohio's statewide surveys, increased access to gambling results in an increased rate of problem gambling. It is our responsibility to advocate for those who are negatively impacted by gambling and ensure any gambling expansion includes consumer protections to mitigate harm and funding for prevention, intervention, and treatment services.
 
Advocacy Resources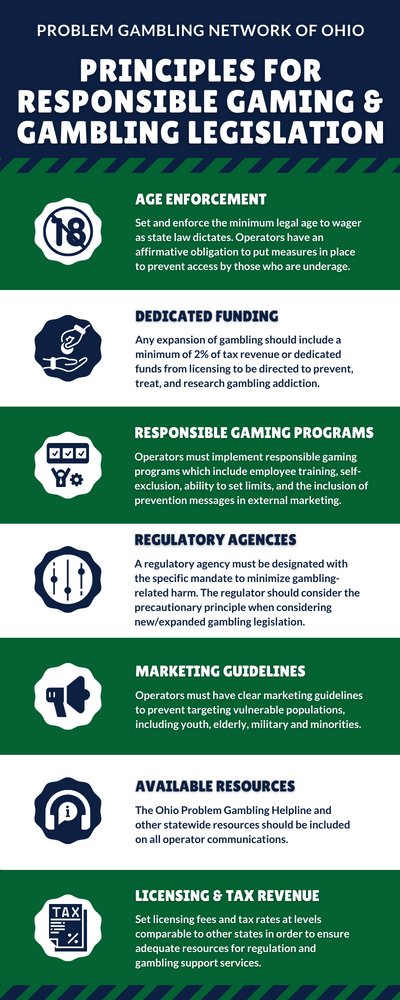 Problem Gambling Network of Ohio's
Minimum Standards
Opportunities for gambling continue to increase throughout Ohio and nationally through both regulated and unregulated avenues. PGNO's Principles for Responsible Gaming and Gambling Legislation outline minimum standards for new regulations and legislation that may be enacted to expand legalized and regulated forms of gambling in Ohio. These principles help protect individuals, operators, and regulators by assisting the creation of reasonable efforts to mitigate harm and maximize effective resources for those impacted.
Contact Your Legislators
Legislators are elected to represent their constituents. Your voice matters in the process of passing legislation that will benefit your community.
Here are some tips for communicating with your state representative and senator:
If legislation is imminent, reaching out to your legislator via phone or e-mail can be most effective.
Meet with your legislators and build connections. If an issue relating to your message or area of expertise is proposed, your legislator can come to you when the time for action arrives.
When contacting your legislators, it is important to voice your opinion, be specific, provide relevant facts, share your personal message or story, ask for action, and be respectful.
Find Your Legislators
Sample Scripts
If you would like additional assistance in reaching out to your legislators, contact us at Info@PGNOhio.org.
---
How to Prepare Written or Oral Testimony
It is crucial that state legislators hear from both subject matter experts and their constituents. Your personal story can make a difference in how a bill proceeds or is altered. The general public can share their expertise or story by testifying on bills currently going through the legislative process.
Submit Oral or Written Testimony:
Determine which committee is hearing the bill. You can do so here.
Contact the office of the Committee Chair at least one day prior to the hearing to let them know that you will be testifying in person or that you are submitting written testimony.
A legislative aide will respond via email and ask you to submit your testimony and fill out a witness slip.
Email a copy of the testimony to the office of the Committee Chair at least 24 hours in advance. If your state Senator or Representative is on the committee, you can also call to let them know that you will be providing testimony.
If you cannot attend the hearing in person, you can submit written testimony. While written testimony may not be as impactful as providing in-person testimony, it is more effective than contacting the representative by phone or email and counts toward those in support or against.
When You Arrive at the Hearing:
Give yourself plenty of time to find parking and get through security.
Bring your state ID.
When you arrive at the room, check-in with the Chair Committee's staffer to make sure you're on the witness list.
Be prepared to wait while other bills and witnesses are called as you often will not know when you'll be called to testify.
Testimony Resources
---
Join Our Advocacy Network
Our mission is to create a dedicated network of support for those impacted by gambling. As a statewide, membership-based non-profit, this mission would be impossible without the support of our members which includes professionals in the fields of prevention, treatment, recovery, regulation, and operation.
In order to show the strongest voice for those impacted by gambling, we need your help by becoming a PGNO member. Not only does a large membership show the support of our work—but your membership dues also provide the resources to ensure we are engaged advocates for all legislation regarding gambling expansion.