Current State of Gambling in Ohio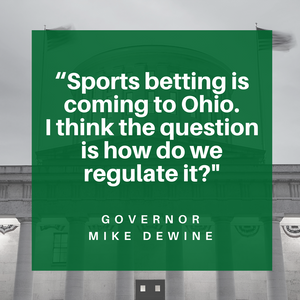 In 2017, the United States Supreme Court declared the Professional and Amateur Sports Protection Act (PASPA) unconstitutional. With the federal ban struck down, individual states can choose to enact sports betting legislation. As of January 2021, there are 21 states with some manner of legalized sports betting.
Governor Mike DeWine issued statements in early 2021 stating that it's not a matter of "if" but "when" sports betting will be legalized in Ohio. While legalized sports betting will cut down on current illegal sports betting activity and allow for state regulation, as gambling opportunities expand, there will be an increased risk of problem gambling.
In January 2021, Ohio Senate President Matt Huffman created the Select Committee on Gaming for the purpose of overseeing gaming regulation in Ohio and to analyze the industries' economic impact on the state.
In this critical moment for Ohio, it is PGNO's mission to ensure that any sports betting legalization will include protections to mitigate harm and provide Ohioans with ample treatment resources in anticipation of rising rates of problem gambling. Join us and advocate for those who will be negatively impacted by sports gambling legalization.
 
Introduced Legislation
Creates two pathways for individuals to be licensed as a Licensed Chemical Dependency Counselor II.

Allow veterans and fraternal organizations to conduct electronic instant bingo and make other changes to the law governing bingo.
Join our mailing list to receive updates on advocacy opportunities and gambling legislative initiatives in Ohio.
 
---
Join Our Advocacy Network
Our mission is to create a dedicated network of support for those impacted by gambling. As a statewide, membership-based non-profit, this mission would be impossible without the support of our members which includes professionals in the fields of prevention, treatment, recovery, regulation, and operation.
In order to show the strongest voice for those impacted by gambling, we need your help by becoming a PGNO member. Not only does a large membership show the support of our work—but your membership dues also provide the resources to ensure we are engaged advocates for all legislation regarding gambling expansion.
 
---