Stage II: Applications and Approaches in Treating Gambling Disorder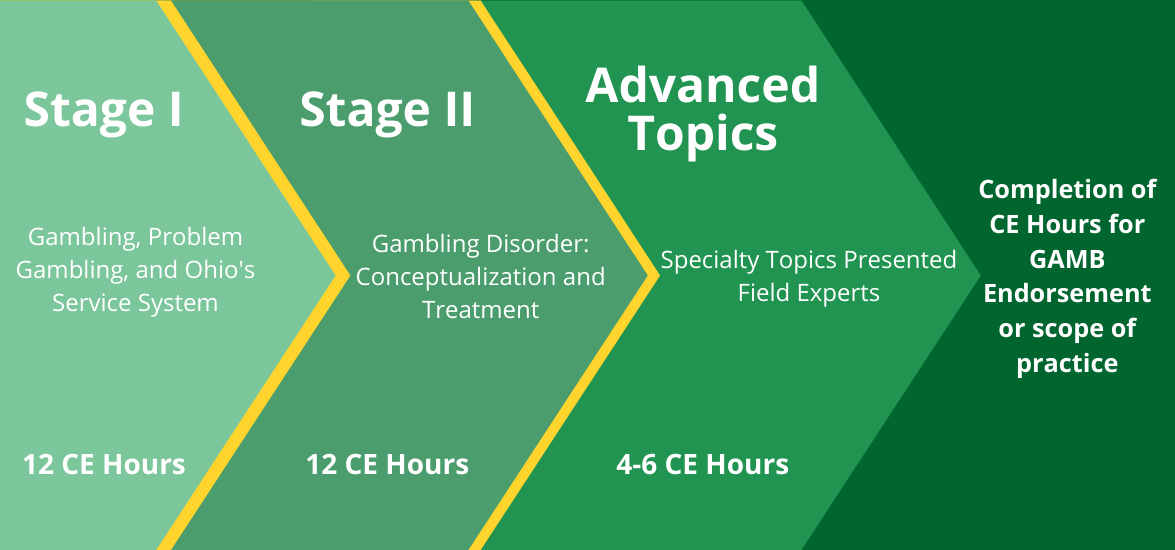 This workshop builds on the Stage I training, aimed at conceptualization, treatment planning, and treatment delivery for those presenting with problem gambling and gambling disorder. Best practice models of care for gambling issues will be reviewed, specifically highlighting Cognitive Behavioral Treatment, Motivational Interviewing, and Mindfulness-Based Interventions. The workshop will be interactive, with large and small group exercises aimed at increasing competencies for gambling treatment.
Prerequisite: Stage I: Gambling, Problem Gambling, and Ohio's Service System or 12 hours of previous gambling counseling training required
Objectives:
1. Participants will learn assessment tools and protocols designed specifically for gambling treatment
2. Participants will learn culturally sensitive treatment protocols designed for treating gambling and reducing gambling harm
3. Participants will review potential ethical dilemmas when working with clients presenting with gambling issues
Continuing Education Hours Breakdown:
TBD
Wednesday, April 21, 10:00am-3:00pm
Thursday, April 22, 10:00am-3:00pm
Friday, April 23, 10:00am-3:00pm
The training will run each day from 10:00 am – 3:00 pm with a 1-hour break from 12:00 pm – 1:00 pm. Each day will consist of 4 hours of content totaling 12 hours.
Registration closes: Monday, April 19, 12:00 pm