Stage I: Gambling, Problem Gambling & Ohio's Service System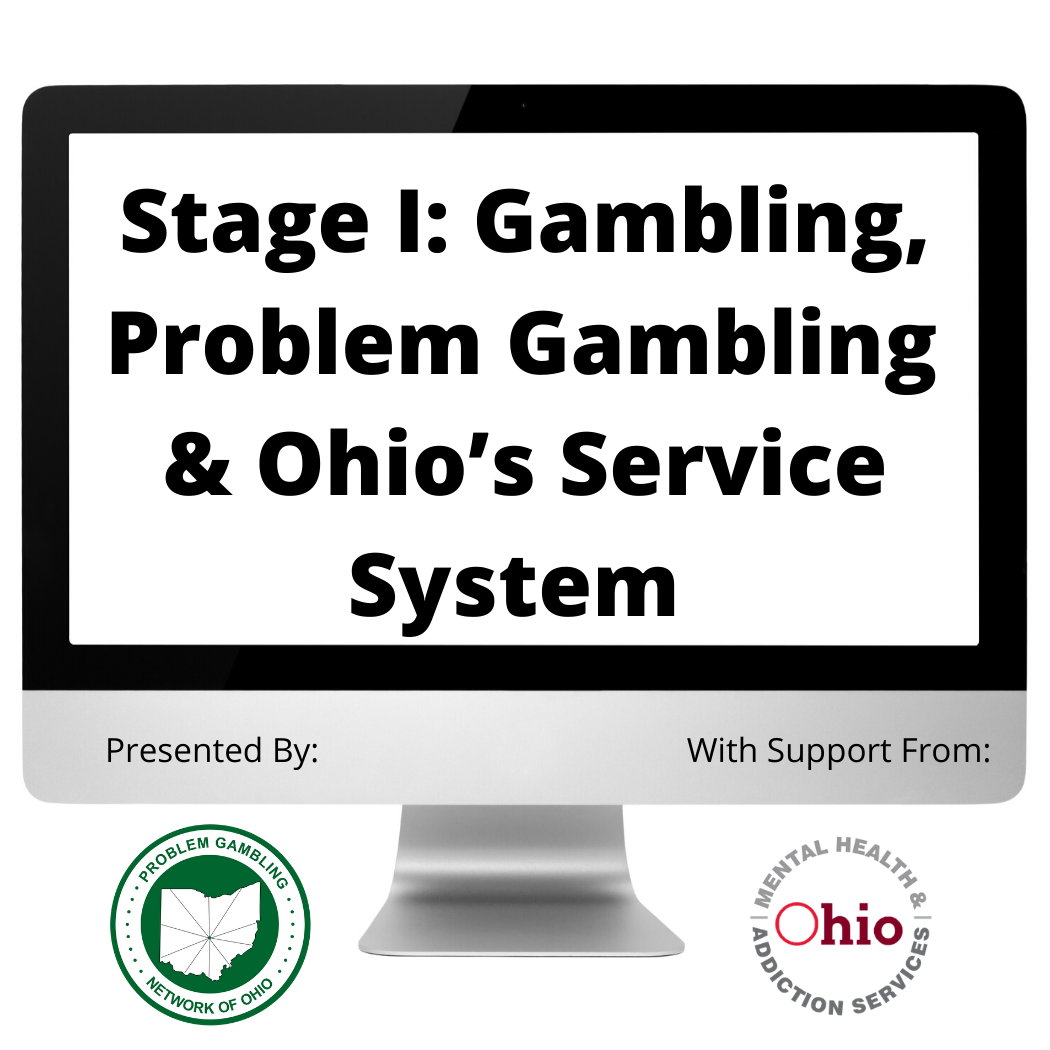 Stage I provides 12 continuing education hours of gambling specific education that will increase participants' knowledge and understanding of the current climate of gambling and gambling expansion, problem gambling risks and warning signs, at-risk populations and co-morbidities of problem gambling with substance abuse and mental illness. This training will also provide an introductory view of screening and assessment along with current treatment models such as Motivational Interviewing and Cognitive Behavioral Therapy to treat problem gambling. Furthermore, this training also discusses new and emerging trends in gambling and gaming, along with legislative updates and how to work with and engage your agency, board and community. Participants will hear form experts in the field of prevention and treatment, recovery advocates and partners in regulation and operation.
Learning Objectives:
• Recognize current trends and date specific to Ohio's gambling and gaming landscape
• Learn the risks and warning signs of problematic gambling
• Understand co-morbidities of gambling addiction, substance abuse and mental illness
• Become familiar with screening tools to identify gambling addiction
• Explore current treatment models such as MI and CBT to treat problem gambling
• Become familiar with other support services and available resources
Continuing Education Hours Breakdown:
Ohio Counselor, Social Worker, and Marriage & Family Therapist Board:
Continuing Education/12 HRS
Ohio Chemical Dependency Professionals Board:
- CPSA/CPS/CPC: P5/3 HRS, P6/2 HRS
***Please Note: Due to the nature of the course, CPSA/CPS/CPC will only be able to obtain 5 continuing education hours.
- CDCA: C1/1.5 HRS, C4/2 HRS, C7/2 HRS, C8/2 HRS, R1/4.5 HRS
- LCDCII/LCDCIII: G1/6 HRS, G2/6 HRS
- LICDC: S1/6 HRS, S2/6 HRS
Wednesday, December 2, 10:00am – 3:00pm
Thursday, December 3, 10:00am – 3:00pm
Friday, December 4, 10:00am – 3:00pm
The training will run each day from 10:00am – 3:00pm with a 1-hour break from 12:00pm – 1:00pm. Each day will consist of 4 hours of content totaling 12 hours.
Who Should Attend:
Professionals in the fields of assessment, prevention, treatment, policy, education; county boards; community members; recovery advocates; partners in operation and regulation; and anyone wanting to learn more.
Registration closes: Monday, November 30, 12:00 PM