BRIDGING THE GAP:
Reflecting on 20 Years of Service & Preparing for the Future
Problem Gambling Network of Ohio & Ohio for Responsible Gambling invite you to attend the 20th Ohio Problem Gambling Conference on February 7 & 9 and February 23 & 24, 2023.
Celebrating two decades of problem gambling support services in Ohio, this year's theme reflects on our history of problem gambling support services while looking to the future as we prepare for the impact of legal sports betting and beyond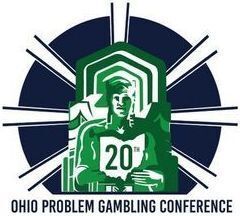 CELEBRATING 20 YEARS
Based on the Guardians of Transportation bridge in Cleveland, Ohio, this year's logo represents Ohio's significance in the field of problem gambling. Our history stretches back to the origin of problem gambling treatment at the Brecksville, Ohio Veterans Administration Hospital in 1972, where Dr. Robert Custer was the first to begin treating disordered gambling and championed its classification as a psychological disorder.
Since then, Ohio's problem gambling service system has only grown, building crucial relationships across the continuum of care and producing innovative programming. As we prepare for the launch of legal sports betting on January 1, 2023, we look to bridge the gaps in Ohio's service system to further strengthen our service system and ensure those impacted by gambling have access to high-quality behavioral health services.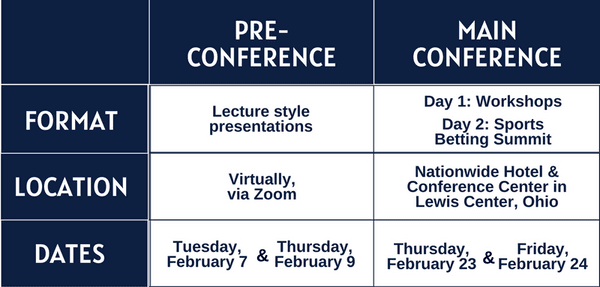 FORMAT
This year's conference will feature a two-day virtual pre-conference on February 7 & 9, 2023, and a two-day in-person conference on February 23 & 24, 2023 at the Nationwide Hotel & Conference Center in Lewis Center, Ohio.
Through lecture-style presentations, the pre-conference will focus on bridging the gaps in Ohio's service system. The first day of the main conference will allow attendees to apply learned skills in a collaborative environment through workshops led by experts in the field. In preparation for the launch of legal sports betting, the second day of the conference will be formatted as a summit where attendees will engage with panelists from across the field to prepare for sports betting's impact on Ohioans.

Information regarding registration rates, presentation opportunities, and sponsorship will be available soon. Stay tuned for more information by signing up for our newsletter!